Advent by Candlelight 2022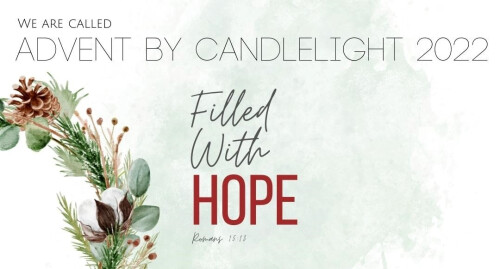 We are called to be people who are filled with HOPE.
Ladies, please join us, in the spirit of the season, for our annual Advent by Candlelight at one of three Cornerstone Lutheran locations this December. All women of CLC and their female family and friends are invited to attend this special annual event. This candlelit evening of carols, conversation, laughter, and thought-provoking speakers will be sure to bring joy to the start of your Christmas season! The dates and locations are:
EAGLE CREEK: Sunday, December 4, at 4 PM
FISHERS: Monday, December 5, at 7 PM
CARMEL: Tuesday, December 6, at 7 PM
There are two ways to register:
Register to host a table -- please register yourself (as the host) and indicate the number of guests, and their names if you know who will be sitting with you.
Register yourself –- if you do not have a table, we will place you with a gracious host. It is a great way to meet new people!
Join us for this wonderful tradition at CLC by making it a part of your Advent celebration. If you have any questions, please contact Kate Giger (click here to email, or call 317-814-4252). We can't wait to see you at Advent by Candlelight!


(Please note: When registering, you will first be asked to submit your contact information, then the next screen will be where you register for the event itself.)