Donuts and Dads!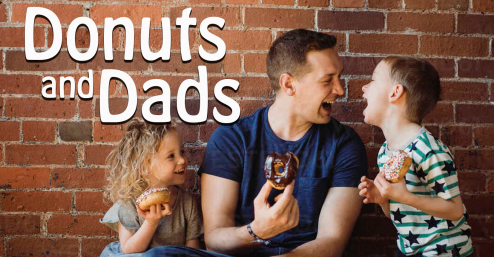 We had a great turnout for our first Donuts and Dads at our Fishers site! About 20 dads and their kids came to play, connect with other dads, and (of course!) eat donuts.
Our next Donuts with Dads will be at our Indy Play Area (2837 E. New York St., Indianapolis) this Saturday, October 8, from 8:30-10:30 AM.
Dads and kids up to age 12, both from our congregation and community, are invited to join us on a Saturday morning at either our Fishers or Indy Play Areas. Take the kids out for the morning while you connect with other dads... and give moms a morning off, too. The schedule is:
Indy Play Area: 2nd and 4th Saturdays from 8:30-10:30 AM (next dates: October 8 & 22)
Fishers Play Area: 1st and 3rd Saturdays from 8:30-10:30 AM (next dates: October 15)
PLEASE NOTE: These Saturday morning gatherings are a special time for just dads (or grandpas, uncles) and kids. We want to provide men a place to foster connections with other dads in the community. We certainly invite moms and other caregivers and kids during the week! For information on weekday hours, CLICK HERE.
We thank CLC Men's Ministry for providing volunteer support to make this opportunity possible!