May Collection: Baby Items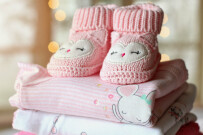 The LWML is sponsoring a Baby Shower during May. In addition to our ongoing partnership with The Little Timmy Project, this month we'll be collecting baby items for The Sharing Place and Concordia Seminary, Ft. Wayne. Items requested include small and medium-sized onesies, undershirts, sleepers with feet, gowns, receiving blankets, crib sheets, mattress pads, towels, socks, disposable diapers, baby wipes, shampoo, pacifiers, and bibs. Gently used baby items and maternity clothes are also needed and much appreciated.
You can place your donations in the wooden bins at any CLC site through Sunday, May 29. We hope you and your family will be able to donate a baby item for another family in need!