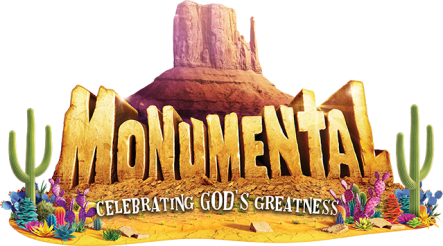 Vacation Bible School 2022: It's gonna be MONUMENTAL!
Let's go off-road for a Monumental adventure through colorful canyons and sunbaked trails of the southwest. By exploring God's awesomeness, kids will form a rock-solid faith for the road ahead! 
VBS is for children age 3 by June 1 (must be potty trained) through those who will be entering 5th grade in the fall. We still have a place for you at our Indy site! CLC Indy VBS is from 5:30-8 pm and includes dinner for the family. (We're sorry, Fishers VBS on June 6-9 and Carmel VBS on June 13-16 are full.)
VBS Volunteers Rock! 
Volunteering for CLC's Vacation Bible School is a blast! You get to meet and connect with lots of people AND share the rock-solid love that Jesus has for each one of these special kids! How MONUMENTAL is that?
We already have 600 kids registered for VBS across all our sites, and that means we need a LOT more people to help us love on these wonderful kids and share Jesus with them! Volunteers can be 6th grade through adults. (Those entering 6th grade through age 15 can be junior guides and area helpers.)
So, when can you help? Just one day? All of the days? Let us know by filling out the form for the location you'd like to help at:
VOLUNTEER for CLC Carmel VBS (June 13-16)
VOLUNTEER for CLC Indy VBS (June 20-23)
Seeking donations and loaner items
This year's Vacation Bible School is seeking various items to be both donated and loaned. 
To DONATE:
Cardboard tubes (from toilet paper, paper towels, gift wrap, etc.)
Please drop these off at any church site with "VBS" on bag.


To LOAN:
Small camping tents 
Camping chairs
Sleeping bags
Bicycles
Lanterns
Artificial trees
To loan any of these items, please contact Tricia Statler (click here to email or call 317-814-4252).