Carmel's Fall Bible Studies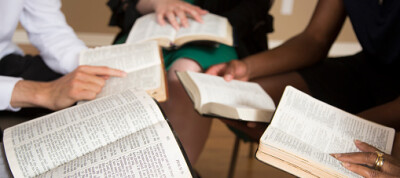 Kick off your fall by attending one of our Bible studies. We have classes on almost any day of the week for women, for men, and for both together. Studies meet every week, unless otherwise noted. For more information on the study, contact the leader via your Church Center app directory. You can also email or call the church office at 317-814-4252.
You can register for any Bible study with a green link by clicking on that title. Or, you can just show up!
SUNDAY MORNINGS, 9:45-10:30 AM
LARGE-GROUP CLASS – Join us in a large-group setting as we dive deeper into the week's sermon and readings.
Leaders: The Pastors & Others (Gym)


GOD'S WORD FOR TODAY: John – In the Gospel of John, the focus is on what Jesus said, enabling us to better follow Him.
Leader: Tom Gambrel (room 101B)


PARENTS & TWO'S – Be a part of this learning experience for both you and your two-year-old child together. Includes developmental play time, Bible stories, learning, and practical application for parents.
Leader: Emma Sickafoose (room 130)

MONDAYS
8-8:30 AM, ZOOM ONLY
FOR ALL: FIRST THINGS FIRST – We meet together via Zoom and reflect on the sermon text for the upcoming Sunday. Everyone's invited!
Leader: Pastor Scott Giger (Email for the Zoom link.)


9-10:15 AM (begins Sept. 18)
FOR WOMEN: MONDAY MORNING STUDY – We follow the themes and texts of the coming weekend's sermon. This study will keep us in the Word, bring us closer in community with one another, and help us to grow in our faith walk.
Leaders: Kate Giger & Abby Kruse (room 101A)

TUESDAYS
9:15-10:30 AM
FOR WOMEN: LIFT (Ladies in Fellowship Together) – This study follows the sermon and daily Bible reading themes for the week.
Leader: Pastor Max Murphy & Others (room 102)

WEDNESDAYS
6:30-7:30 AM (begins Sept. 13)
FOR MEN: GIFT (Guys in Faith Together) – This study follows the sermon and daily Bible reading themes for the week.
Leader: Pastor Max Murphy and others (room 102)


9:30-11 AM
FOR WOMEN: GOD OF COVENANT — Beginning with Genesis 12, we will walk alongside the fathers of our faith (Abraham, Issac, Jacob and Joseph) to discern Jesus in the stories. (Author: Jen Wilkin)
Leaders: Nancy Mills & Sheri Frame (room 100)


4:30-5:30 PM (begins Sept. 13)
FOR WOMEN: JOY, A Study of Philippians – This close look at Paul's letter to the Philippians—the "letter of joy"—unpacks messages of contentment, confidence, humility and hope, all found in Christ. (Author: Deb Burma)
Leader: Susan Wright (room 101A)


6:30-7:30 PM
FOR ALL: LIFELIGHT, Parables of Jesus – Class participants review the material during the week for in-class discussion. The class is open to adults of all ages, couples or singles, and all levels of Bible study experience, and you can attend in person, or via Zoom.
Leaders: Don Hawes, Chuck Mihalik, Jennifer Behm (room 101A & by Zoom)


THURSDAYS
9:30-11 AM (begins Sept. 14)
FOR WOMEN: FAITH, A Bible Study on James – In this study, we will learn to live more effectively for Jesus and His gospel. (Author: Keri Folmar)
Leaders: Erin Davis & Kate Giger (room 101A)


1-2 PM
FOR ALL: OLD TESTAMENT BOOK BY BOOK – We take turns reading a few paragraphs at a time, followed by open discussions and sharing opinions, views, etc. We started with Genesis and have reached 1st Samuel and welcome anyone to drop in whenever they can. There's no long-term commitment, workbook, or homework required. We frequently share our prayer requests and have group prayers.
Leader: Dean Derby (Senior Lounge)


7-8:30 PM (begins Sept. 14)
FOR WOMEN: GOD'S COVENANT – No subject ties the Word of God together more than covenant because everything God does is based on covenant. As you learn about covenant it will truly transform your life and the Word will come alive in a whole new way. Come join us as we dive into God's enduring promise and see how the remarkable ways the old covenant points to the promises of the new covenant--the covenants God made for you.
(Author: Kay Arthur)
Leaders: Christine Mayes & Chris Doron (room 101A)

FLEXIBLE STUDY
Day/Time/Location determined by participants.
FOR ALL: GROW IN CONFIDENCE TO SHARE YOUR FAITH – Meet one-on-one (or as a couple/family) with Pastor Jason for a six-part foundations course blending scripture and experience that will start you on the path to recognize and engage in faith conversations, followed by up to nine months of biweekly coaching as you begin your journey.
Leader: Pastor Jason Taber (email him at to get started.)