High School Students: Small Groups Are Coming!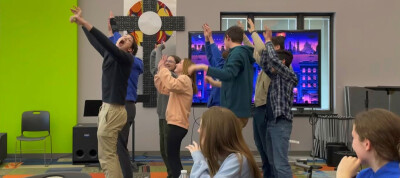 We are excited (can't you tell by the picture?!) to announce the start of High School Small Groups for this school year! A small group is about eight friends who meet once a month and are led by some adults who really care about them. During their time together (usually at the leader's home) they take part in Bible study, snacks (of course) and encouraging one another in their daily walk of faith. They will also be able to do service projects together.
High School Small Groups will kick off on Sunday, October 1, from 4-6 PM, at our Carmel and Fishers sites. Students are welcome to go to the site they usually attend, or pick whichever site they wish to attend.) Afterwards, their group will meet at their leader's house on the first Sunday of the month from 4:30-6 PM. More information will be available at the kick off, so be sure to come!
SIGN THEM UP! Make sure your student is a part of a small group by filling out this form no later than September 29: CLICK HERE!
If you have any questions about High School Small Groups, email Pastor Scott at .
We can't wait to see you all on October 1!