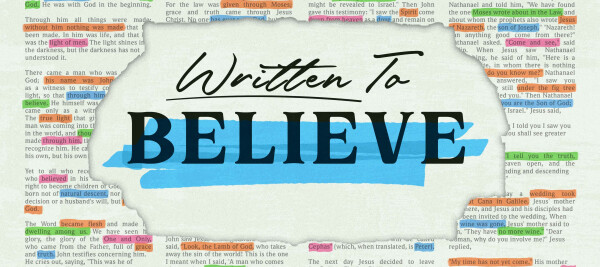 Welcome to Cornerstone's new church-wide initiative, and sermon series, Written to Believe. Beginning in September, and continuing to the end of the year, we will walk through the New Testament together with daily readings, weekly memory verses, Bible studies, resources, and worship.
HERE'S HOW YOU CAN GET INVOLVED!


Daily Readings
11/26 - 1 Cor 15; 11/27 - 1 Cor 16 & 2 Cor 1-2; 11/28 - 2 Cor 3-6; 11/29 - 2 Cor 7-10; 11/30 - 2 Cor 11-12; 12/1 - 2 Cor 13 & Gal. 1-2; 12/2 - Galatians 3-5
You can also download a PDF copy of the entire reading plan.
Daily Reading Text Messages 
You can receive text messages on your phone with links to each day's reading! The link will take you to the YouVersion Bible where you can read or even listen to the day's reading on your phone. You can also choose to receive a verse of the day.
Resource Binder
You can pick up a Written to Believe Resource Binder - with daily readings and memory verses, breakdowns of each book, weekly themes, and more - outside of the worship area at each of our sites, while supplies last. 
You can also download a PDF copy of the Resource Binder.
Questions for Our Pastors?
As you read through each day's verses, you may have questions about the content or meaning of the text. We encourage you to submit your questions using the form below. One of our pastors will respond to you!
 Pastor Office Hours: Our pastors will also hold regular office hours each week for anyone wanting to discuss that week's texts. You can just show up at your local site on Thursdays, between 11 AM and Noon and ask for your site pastor.