Living Nativity Dec. 10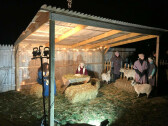 Our annual Living Nativity at CLC Fishers will be on Saturday, Dec. 10, from 5-8 PM. Join us for this outdoor drive-through event in a creative retelling of the greatest story ever told! This Living Nativity comes complete with live animals (even camels!), a story you can listen to while driving through the stations, and a special gift bag. Price of admission is canned food items that will be donated to the Come to me Food Pantry.
You won't want to miss out on this fun Christmas event! Registration is not required.
This is a huge community event which brings in more than 1000 people each year! We need LOTS of volunteers to make this event happen. To volunteer, CLICK HERE.
Donations are also needed for this event. Please drop them off at any site:
Empty and CLEAN Milk jugs (half gallon or gallon)
Battery operated tea lights
Full-size peppermint (red and white) candy canes